As I mentioned a few days ago, we're celebrating a few birthdays this weekend.
Also in that post, I mentioned it would be a slow craft week. It definitely has been. Although I may have wanted, I ended up not making any gifts, so we had to go shopping.
This first gift is from LeSportsac. My sister's friend, Shari, just got an iPad2 and will be taking it with her on her trip to China for an externship. I obviously could have made a messenger pouch to custom fit the dimensions, but she leaves in less than a week and I'm still not all that confident with my sewing inventions.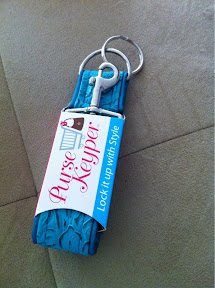 This second gift is a decorative, multi-use strap. Shari's sister, Mona, does a lot of traveling and she always has some tote with her. According to the advertisement you can use the durable strap to connect pieces of luggage for travel, a wristlet for your keys, or even for everyday use and hang your purse to a shopping cart as you shop for groceries!
That is definitely useful. I am guilty of leaving my bag on the seat next to Ella, where it can be stolen. But when possible, I do try to use the buckle to attach it to the cart. At least, to prevent someone from snatching my purse and making a hasty getaway.
I hope that over time, my skills will improve so that I could just create these things from scratch. Although, I'm not sure time can improve my creativity? How would I even know to make them in the first place?!