We spent the day at a pool party at Ryan's aunty's house. It wasn't Ella's first time in the water (we have a small 3x3 inflatable pool for her to splash in), but it was her first time in a big pool. She was so excited, as fearless as she was with the goat on Friday, she approached the pool to check it out. Forget lunch, she wanted to jump right in!
We bought her a little goldfish inner tube with a sunshade. She thought that was fun, but wow, when I took her out and she could just kick around, she LOVED it! She was actually sad when we took her out to eat lunch.
And break.
For lunch, we did potluck, and I brought a Chicken and Wild Mushroom Quinoa Risotto. Inspiration
here
. It was so good and I got so many compliments (most were because it was the first time they've even heard of quinoa), I think I would make it again!
Here's the adapted recipe if you want to try:
3 pieces of boneless, skinless chicken
2 cans chicken stock
2 Tablespoons olive oil
3 Tablespoon Butter
2 Shallots, minced finely
1 garlic clove, minced finely
1 pound fresh wild mushrooms, chopped (I used 6oz eryngii and 10oz portobello)
Salt and pepper
2 cups traditional quinoa, washed, soaked for 10 minutes, and rinsed
1/2 cup dry white wine (I used $8 chardonnay)
1 teaspoon white truffle oil
Season the chicken with a little olive oil, salt and pepper. Simmer the chicken stock in a pot. In a separate large skillet, cook the chicken through. Remove from heat and dice/shred. In the same pot, melt the butter in the oil. Saute the shallots for about 7-8 minutes until you can see right through them. Add the garlic, and after a few minutes add salt and freshly ground pepper. Add the mushrooms and cook for 5 minutes. The mushrooms should not be fully cooked, but reduced about 1/3 of the way. Add the chicken back to the mixture.
Add the quinoa and toast for a minute.
Use the wine to deglace and stir. Once absorbed, pour the stock 1/2 cup at a time until fully absorbed. The quinoa may be slightly al dente, which is preferable. Cover and let cook for 10-15 minutes. Remove from heat.
Fold in the white truffle oil.
Even Ryan complimented me on the dish (he first heard of quinoa yesterday, when we bought it, heh), he had seconds, possibly even thirds!
Back to swimming.
Ella had so much fun, she kept trying to go back to the pool after lunch! This little girl has got her daddy wrapped around her finger because "Mr. I hate the sun and swimming" plopped into the pool to wade around with her.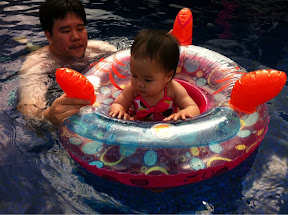 What a great daddy! I have some other adorable pictures that I'll try to get up.