I spent another day off with Ella, so we went on a search for things to stuff into her birthday goodie bags.
We have a range of age groups to satisfy, so we grabbed a bunch of items: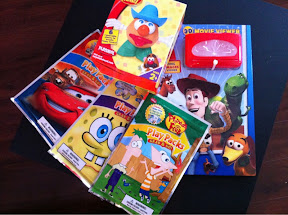 I need a couple items for 3m - 6m, but I think that's good for now.
So far, we've also got a 9y and 11y, but these play packs are a little too "kiddie" for them, so I thought maybe a craft item may be more their speed:
I saw this kit and thought, "That's cool!" It's so something I would have enjoyed as a party favor (some 20 years ago...oh my, I turn 28 this week). I can separate each into it's own kit.
I may end up having to make these kits for all the "kids", like the 25-30yr old attendees!