So the big day was a big success!
She had a special sign directing guests.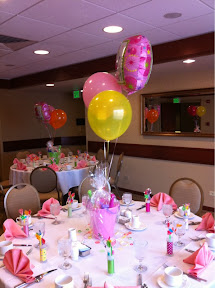 Balloons on centerpieces and favors , oh my!
The balloons were the best part!
A special pink lemonade cake and matching cake pops to give away, thanks to
Sweet As Sugar
.
It was a great party and we went home to open presents. She got a lot of great gifts, such as this splashy table. It was windy and cold, but she had a lot of fun, we finished the day with a BBQ. I made cheese pizza from scratch for the kids, grilled pork chops, teriyaki chicken, and spicy sausage for the adults. Not bad for a last minute dinner for 12 people, eh?