My friends are expecting their first child at the end of September. Finally, more friends are jumping in to the parenting boat! It's so hard to be one of the few with kids -- everyone still lives their partying, late-night lives, while we go to bed before the 10 o'clock news.
Anyway, she's due in late September, but after a recent scare, she's on bedrest until delivery. I scrambled to get part of her gift made - a designer
hospital gown
. I made one for myself because I didn't want to use the icky hospital ones, and I wanted it as a keepsake for later. I also made one for another friend. I'm not sure if she used it, but oh well.
So because of the scare, my friend experienced said
icky hospital
gowns. They had holes, stains, and the closure straps were broken off. With her shower coming up, I wanted to make sure she gets it right away, so unfortunately no pictures. It's came out really nice though!
It has velcro tabs on the shoulders for easy pull away for the tubes and tapes that get hooked up or if she doesn't get to use the gown (C-section), then she can use it for nursing when she's in postpartum wing.
As part of our gift, I wanted to make a set of items that she could use. So I also made a
nursing cover
in a coordinating fabric. I decided that I was going to make everything in a lime green, teal, yellow palette. I made a couple changes from the original instructions. (1) I used D-rings on my own nusing cover, and hated it--I would rather have had ties. It was easy enough to slip over my head and I would never get a shock of really cold metal against my neck. (2) I sewed the casing for the boning before inserting it. It was too difficult to navigate the presser foot around the curves and plastic. (3) In one corner, instead of a triangle "wipe", I made a pocket to stick in some disposable pads. I changed them frequently, but didn't always have pockets to carry them. If they were on the cover it would have made it so much more convenient!
I really like this fabric. It's so bright and teal and just POPS!
I also love promotional t-shirts. It's got that soft knit feel, without the hard work of hemming.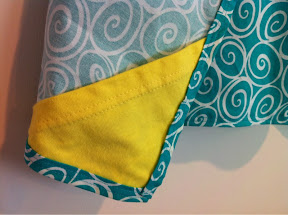 The shower is today, but I have a few more items to share. So they'll go up as I have time to upload pics from my phone and write a bit about them.