The other week was my sister's birthday. For my birthday, she surprised me with a meal plan from
Licious Dishes
. I wanted to be equally as sweet.
This year, she had a meeting and was working in downtown. Usually, she takes the day off or works from home to avoid any unnecessary, awkward celebrations. Not this time. I picked up a orchid and ginger lei and a half dozen cupcakes to personally deliver. She was totally shocked that I came to visit and appreciative of the delicious treats!
I went to Let Them Eat Cupcakes, as I've read they've got the best (yes, better than Hokulani, better than Cake Couture). The bakery occupies the old Mix Cafe location on Beretania at the top of Fort Street Mall. Instead of the serene, sea green doors and calming Italian deco, it's a fuchsia, punch you in the face type of theme. They make killer cupcakes -- and that's not just their motto.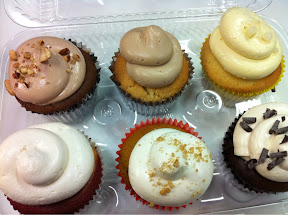 clockwise from top left: Nuttela, Peanut Butter
Choco (with chopped pretzel topping),
Lemon, Chocolate, Pumpkin, Red Velvet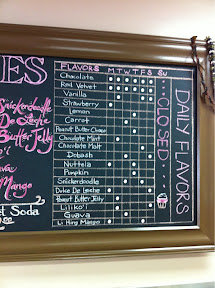 They have a rotating schedule, so everyday there is Chocolate and Red Velvet and a choice of 4 gourmet flavors.
So far I've tried the Red Velvet, Lemon, Peanut Butter Choco, Chocolate Mint, Nuttela, and Pumpkin. They have a nice bite on the top and they're like sweet air in the middle and the frosting is light and buttery but not overwhelming. If you're ever in the area or get the chance to taste one of these bad boys, DO IT!