Ever get the feeling that Google knows everything? Well, you should because it does! Especially the best recipe for a
simple tomato basil bruschetta
.
Since I haven't had many posts in a while, I decided to make a tutorial!
You will need:
6 or 7 ripe plum tomatoes (about 1 1/2 lbs)
1 clove garlic, minced
1 Tbsp extra virgin olive oil
1 teaspoon balsamic vinegar
6-8 fresh basil leaves, chopped.
Salt and freshly ground black pepper to taste
1 baguette French bread or similar Italian bread
1/4 cup olive oil
Why Roma tomatoes, you ask? Well, they've got a high "meat" to juice ratio, and not much seeds. Plus, it's got a good tomato flavor. I've tried grape and cocktail tomatoes (ridiculously small) and heirloom tomatoes (too watery and mushy texture). Just go for the Roma.
You'll want to peel the skins off. The easiest way is to stick them in a pot of boiling water, removed from heat for a few minutes. The hotter they are when you peel it, the easier it is. Be careful and don't burn your fingertips!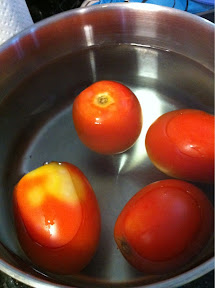 Preheat the oven to 450 degrees. When the tomatoes are all nice and peeled, you want to give them a good dice. Keep it small -- the larger it is, the harder it is to scoop a yummy serving onto a little slice of baguette. Also try to discard the liquid that seeps out. The salt added later will draw out a lot of liquid.
Add in the clove of garlic, olive oil, balsamic vinegar, basil, salt and pepper. Mmmm!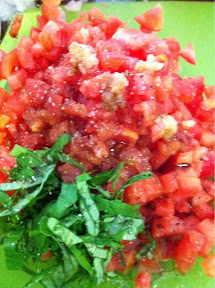 Slice the baguette diagonally into 1/2 inch slices. Soak one side in olive oil and place it face down on a large cookie sheet. After you've arranged all the slices, pop them into the oven for 5-6 minutes.
You can arrange the tomato basil topping on each piece of toasted baguette with an optional fresh slice of parmesan.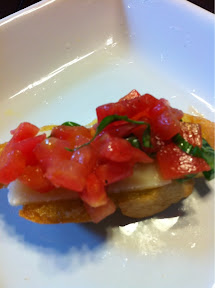 So simple, so good, paired with wine as an appetizer for 8 or dinner for 4. Or two. Heh.